Gourmet Chocolate Gift Box with 18 fine chocolates in Bright Red tray packaging.
Contents:
Milk Chocolate - 3pc
Crispy Chocolate - 3pc
Dark Chocolate - 3pc
Roasted Almond - 3pc
Marble Chocolate - 3pc
Orange Filled Truffle (center filled) - 3pc
Fresh and best quality products
Giftwrap option for gifting
All India on-time delivery
Complete End-To-End tracking done by our experienced team
Find a huge selection of dry fruit gifts, sweets gifts, chocolate gifts, gift baskets and combo gifts at reasonable rates at snaktime.in. We have high standard for quality and service. We can fully customize your gift with different items to create a unique gift for your employees, clients, friends and loved ones.
Ingredients:
Dark Chocolate Couverture - Cocoa mass, Sugar, Cocoa Butter, Emulsifier (INS 322). Contains Added Flavour (Vanillin). Contains Soy. May contain Milk. Cocoa Content - 55%
Milk Chocolate Couverture - Sugar, Cocoa Butter, Milk Solids (24%), Cocoa Mass, Skimmed Milk Powder, Emulsifier (INS 322). Contains Added Flavour (Vanillin). Contains Soy & Milk. Cocoa Content - 35.6%.
White Chocolate: Sugar, Hydrogenated Vegetable Fat, Whey Powder, Skim Milk Powder, Emulsifier (Lecithin, Vanillin).
Shelf Life: 9 months
Packaging & Delivery:
Delivery Within Mumbai: Chocolate Gift boxes are gift wrapped. Your order is hand delivered by our delivery team. Boxes are handled with extreme care ensuring that chocolates do not melt during transportation. We only deliver fresh and best quality food items.
Delivery Outside Mumbai: Chocolate Gift boxes are gift wrapped. Boxes are neatly placed inside a carton. Carton is reinforced with protective packaging solution to prevent any damage to contents. Carton is lined with thermal insulating layer to protect chocolates from melting during transporation. At Snaktime.in, we ensure that all the items in your order reach you in complete and perfect condition.
About Blasta: Blasta in Irish means Delicious. Blasta chocolates are luxury chocolates with rich taste and aroma. Once you taste one chocolate, you will find it difficult to resist eating another one. They are perfect for gift giving on occasions like Birthday, Anniversary, Engagement, Wedding, Baby Announcement, Valentines Day, Diwali, Christmas, New Year or as corporate gift. Blasta chocolates are made in very hygienic environment with purest ingredients to give that unforgettable taste. Blasta Chocolates come in many flavours including Milk, Dark, Marble, Whole Roasted Almond, Crispy, Mint, Cashew Raisin Delight, Orange Truffle, Hazelnut Truffle, Butterscotch Truffle, Coffee Truffle, Caramel Truffle, Strawberry Truffle, Marzipan Enrobed Chocolate and more. Blasta chocolates are 100% vegetarian and are free from artificial colours and flavours.
Classic Chocolates: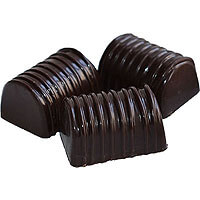 Dark Chocolate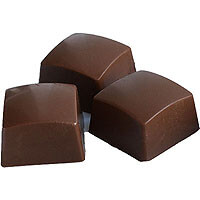 Milk Chocolate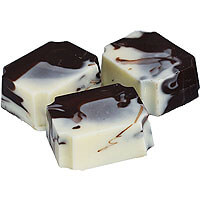 Marble Chocolate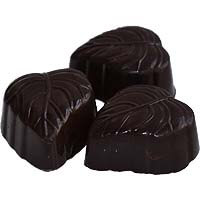 Mint Chocolate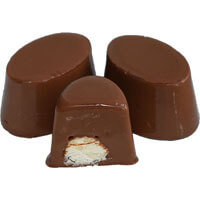 Whole Almond Chocolate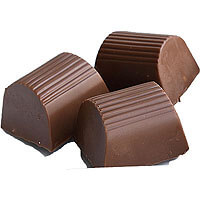 Crispy Chocolate
This is a Vegetarian product.