Send this cute Golden chocolate gift online to your family and friends.
Chocolates in Box: Box contains three of each of the following chocolates -
Milk Chocolate
Dark Chocolate
Caramel Truffle
Whole Roasted Almond Chocolate
Cashew Raisin
Orange truffle
This beautiful chocolate gift box can be given on any special occasion be it Diwali or as a Rakhi gift or any occasion that you might want to give in. Our chocolates are smooth and contain no additives. The chocolate box is checked for quality and shrink wrapped to preserve freshness. Get the great taste of real chocolate with each bite of these delicious chocolates.
These simply delicious chocolates are not only unique because of their taste, but also in their shape. Each chocolate weighs almost 15gms and with each bite you can feel the luxurious taste of chocolate that melts in your mouth. Chocolate gift boxes are delivered to you with extreme care and caution. Our chocolate gift box contains the best chocolates only available at our online store.
Find a huge selection of dry fruit gifts, sweets gifts, chocolate gifts, gift baskets and combo gifts at reasonable rates at snaktime.in. We have high standard for quality and service. We can fully customize your gift with different items to create a unique gift for your employees, clients, friends and loved ones.
Our Chocolates:
Discover the taste of Belgian Couverture chocolate with every bite of our premium luxury chocolates. Made from pure chocolate base and available in many unique shapes and flavours, they are simply outstanding.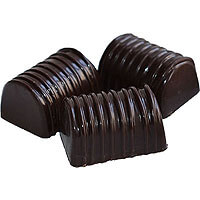 Dark Chocolate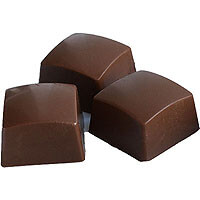 Milk Chocolate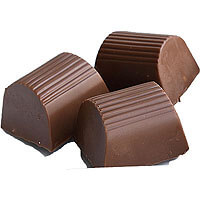 Crispy Chocolate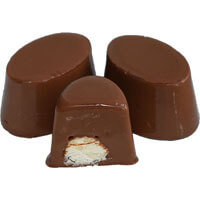 Whole Almond Chocolate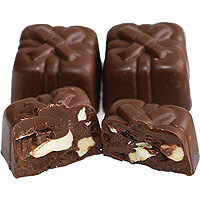 Cashew Raisin Delight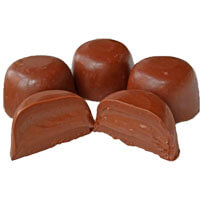 Orange Truffle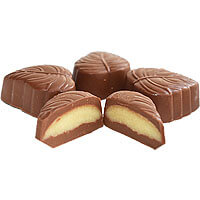 Marzipan Chocolate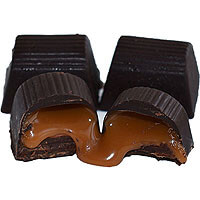 Caramel Truffle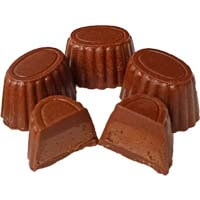 Coffee Truffle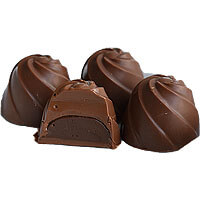 Hazelnut Truffle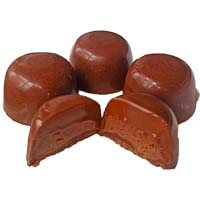 Butterscotch Truffle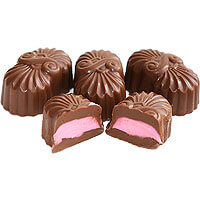 Strawberry Truffle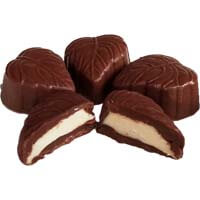 Coconut Truffle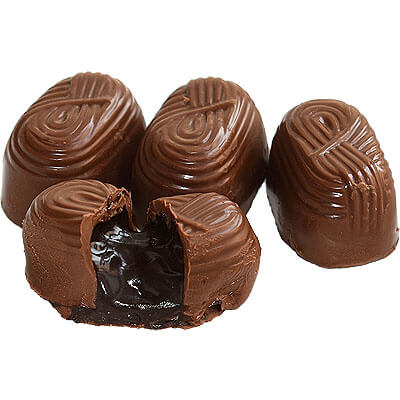 Dark Center Filled Truffle
Ingredients:

Dark Chocolate Couverture - Cocoa mass, Sugar, Cocoa Butter, Emulsifier (INS 322). Contains Added Flavour (Vanillin). Contains Soy. May contain Milk. Cocoa Content - 55%
Milk Chocolate Couverture - Sugar, Cocoa Butter, Milk Solids (24%), Cocoa Mass, Skimmed Milk Powder, Emulsifier (INS 322). Contains Added Flavour (Vanillin). Contains Soy & Milk. Cocoa Content - 35.6%.
White Chocolate: Sugar, Hydrogenated Vegetable Fat, Whey Powder, Skim Milk Powder, Emulsifier (Lecithin, Vanillin).
Shelf Life: 9 months
Nutritional Info:
Nutritional Value (Approx) per 100 gm
Dark
Milk
White
Energy
548 Kcal
552 Kcal
562 Kcal
Carbohydrates
61 gm
62 gm
58 gm
Fat
32 gm
32 gm
34 gm
Protein
4 gm
4 gm
6 gm
Trand Fatty Acid
0.0 gm
0.0 gm
0.0 gm
This is a Vegetarian product.

21521045000193
Why Shop At SnakTime.in?
Fresh and best quality products
Giftwrap option for gifting
All India on-time delivery
Complete End-To-End tracking done by our experienced team
How To Place Order:
Enter delivery pincode.
Select and add items to cart.
Click on Place Order button on the cart page. The button will appear once cart total meets minimum order amount requirement.
Create an account or continue as guest without creating an account. Enter delivery address, payment details and click on Confirm Order button.
If order is a gift, select gift option during checkout and enter your gift message.
SMS and Email with order details will be sent once order is confirmed.
SMS and Email with tracking details will be sent once order is dispatched.
Packaging & Delivery:
Delivery Within Mumbai: Chocolate Gift boxes are gift wrapped. Your order is hand delivered by our delivery team. Boxes are handled with extreme care ensuring that chocolates do not melt during transportation. We only deliver fresh and best quality food items.
Delivery Outside Mumbai: Chocolate Gift boxes are gift wrapped. Boxes are neatly placed inside a carton. Carton is reinforced with protective packaging solution to prevent any damage to contents. Carton is lined with thermal insulating layer to protect chocolates from melting during transporation. At Snaktime.in, we ensure that all the items in your order reach you in complete and perfect condition.
Our Delivery Partners:



About Blasta: Blasta in Irish means Delicious. Blasta chocolates are luxury chocolates with rich taste and aroma. Once you taste one chocolate, you will find it difficult to resist eating another one. They are perfect for gift giving on occasions like Birthday, Anniversary, Engagement, Wedding, Baby Announcement, Valentines Day, Diwali, Christmas, New Year or as corporate gift. Blasta chocolates are made in very hygienic environment with purest ingredients to give that unforgettable taste. Blasta Chocolates come in many flavours including Milk, Dark, Marble, Whole Roasted Almond, Crispy, Mint, Cashew Raisin Delight, Orange Truffle, Hazelnut Truffle, Butterscotch Truffle, Coffee Truffle, Caramel Truffle, Strawberry Truffle, Marzipan Enrobed Chocolate and more. Blasta chocolates are 100% vegetarian and are free from artificial colours and flavours.
Shipping Weight: 550g
Need more information?