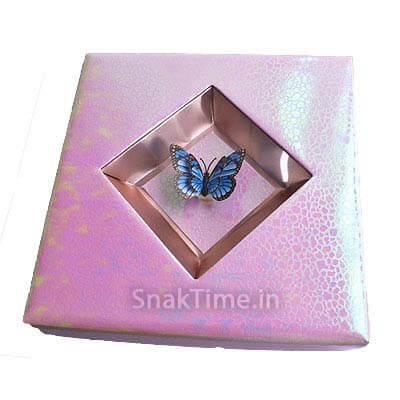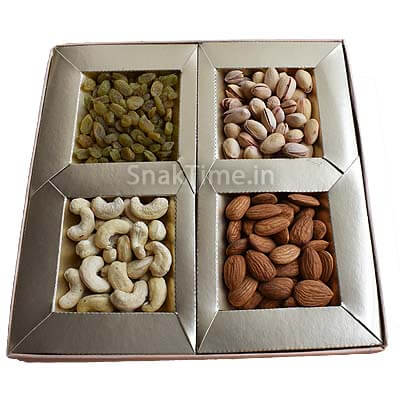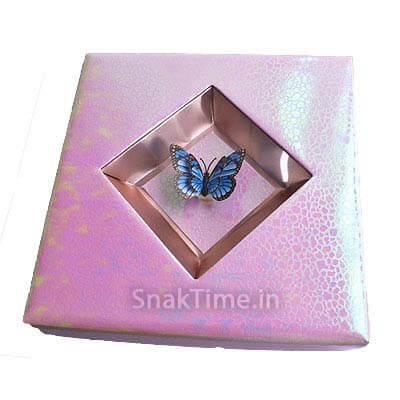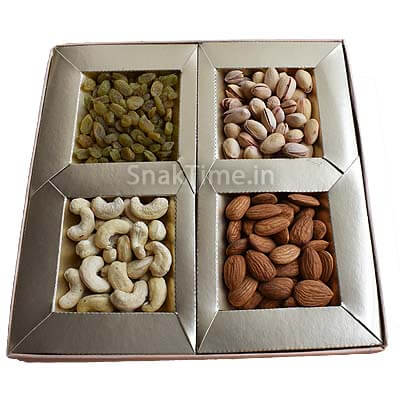 Butterfly Art Dry Fruit Gift ST1899X9 - 300g
Dimensions: 9.5" x 9.5"
Current Promotions:

Get ₹50 Off on your first order of ₹500 - use coupon code STN1219 on cart page. (New Customers Only)
Get ₹60 Off on order total of ₹1000 - use coupon code SNAK1219 on cart page.
This elegant dry fruit gift box with butterfly motif in center comes with 4 compartments filled with fresh and best quality premium dry fruits. They are great for corporate gifting as well as gifting for special occasions & festivals like diwali.

Contents:
Cashews (Kaju) - 120g
Almonds (American Badam) - 120g
Afghan Sweet Raisins (Kismiss) - 120g
Roasted Salted Pistachios (Pista) - 120g
Fresh and best quality products
Giftwrap option for gifting
All India on-time delivery
Complete End-To-End tracking done by our experienced team
Find a huge selection of dry fruit gifts, sweets gifts, chocolate gifts, gift baskets and combo gifts at reasonable rates at snaktime.in. We have high standard for quality and service. We can fully customize your gift with different items to create a unique gift for your employees, clients, friends and loved ones.
Ingredients: California Almonds (Badam), Shelled Salted Pistachios (Pista), Cashews (Kaju), Green Afghan Raisins (Kismis)
Shelf Life: 6 months
This is a Vegetarian product.
Customer Rating on Google: 4.8

(Based on 172 Reviews)
Snacks are really good and delivered on time.
- Ankita Verma, Bangalore (Source - Google)
Excellent Snacks. Fresh and Fast delivery too.
- Gary, Pune (Source - Google)
Good place to get your hands on some authentic nankeens.ordering is simple and delivery is on time which matters most.
- Sajith Nair, Kozhikode (Source - Google)
Similar Items:

Enter Delivery Pincode:
We need pincode to show availability & delivery info.