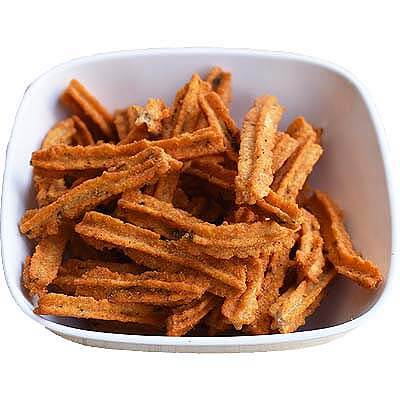 Methi Jeera Sticks - 250g
₹
115
125
(8% Off)
Inclusive of GST
Current Promotions:

Get ₹50 Off on your first order of ₹500 - use coupon code STN1219 on cart page. (New Customers Only)
Get ₹60 Off on order total of ₹1000 - use coupon code SNAK1219 on cart page.
Crunchy tasty sticks with Methi (Fenugreek), Jeera and spices. Fenugreek has many health benefits including
Fresh and best quality products
Giftwrap option for gifting
All India on-time delivery
Complete End-To-End tracking done by our experienced team
Shelf Life: 3 months
This is a Vegetarian product.
Customer Rating on Google: 4.8

(Based on 172 Reviews)
If you are looking for a website that sells best quality banana chips at reasonable prices then , don't go any further ! This website is actually better than a lot of their competitors ( believe me when i say this as i have tried lots of other websites as well ) , the package was delivered on time , the product tastes really good , crispy and fresh !! GO FOR IT ! You won't regret for sure !
- Anjali Thakur, Gurugram (Source - Google)
Excellent snacks.. Good quality, healthy options available and next day delivery. Worth trying
- Vishal Bhuta, Mumbai (Source - Google)
Quick and hassle free delivery!!! Good quality makhana and other products!!!
- Chaitanya Desai, Mumbai (Source - Google)
Enter Delivery Pincode:
We need pincode to show availability & delivery info.