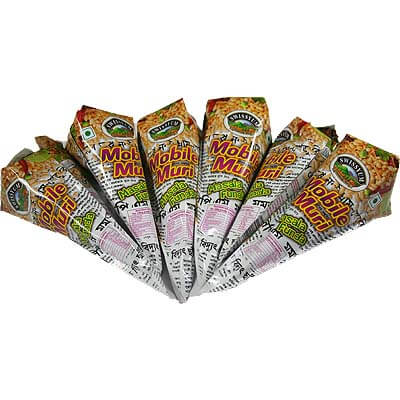 Swissyum Mobile Muri Bhel Pack of 10 - 500g
Mobile Muri Masala Funda Bhel is a product of Swissyum foods and is manufactured in Kolkata. Put a bit of lemon juice and enjoy delicious bhel on the go. This is a pack of 10 Muri Bhel packets, 50g each packet. Kindly note - coupon code will not apply for this item
Fresh and best quality products
Giftwrap option for gifting
All India on-time delivery
Complete End-To-End tracking done by our experienced team
Ingredients: Puffed rice, refined vegetable oil, Gram flour, peanuts, spices & Salt
Shelf Life: 4 months
This is a Vegetarian product.
Customer Rating on Google: 4.8

(Based on 172 Reviews)
Their multigrain roast mix and roast bajra is the best. Healthy, tasty and very addictive. quick item delivery as well. Highly recommended!
- perds, Mumbai (Source - Google)
Snacktime was prompt in service . They offer yummy, healthy snacks. Completely satisfied.
- Pradeepa B, Bangalore (Source - Google)
If you are looking for a website that sells best quality banana chips at reasonable prices then , don't go any further ! This website is actually better than a lot of their competitors ( believe me when i say this as i have tried lots of other websites as well ) , the package was delivered on time , the product tastes really good , crispy and fresh !! GO FOR IT ! You won't regret for sure !
- Anjali Thakur, Gurugram (Source - Google)
Similar Items:

Enter Delivery Pincode:
We need pincode to show availability & delivery info.